Participants in the debate
By implementing the "National Digital Transformation to 2025, with a direction to 2030" program approved by the Prime Minister, the Vietnamese banking sector has set a target for 50% of its business activities to be digitalized and 70% of transactions completed online by 2025.
Deputy Director Le Anh Dung of the Payments Department (under the leadership of the State Bank of Vietnam – SBV) affirmed that SBV has priorities in its digital transformation process. The first is the evolution of operational infrastructure and digital payment systems. The use of digital technologies in the design of products and services is also a clear objective of SBV. Digitizing data and forming a digital ecosystem to deliver secure products, services to customers on electronic devices is essential in the digital age.
Therefore, SBV cooperated with the Ministry of Public Security to make good use of the national population database for identification and authentication processes to provide safe, fast, convenient and reliable services.
Moreover, since 95% of the country's banks have already designed their digital transformation strategies, SBV is actively trying to master advanced technologies like cloud computing, big data analytics to upgrade its core IT system for the provision of products and services on the digital system. .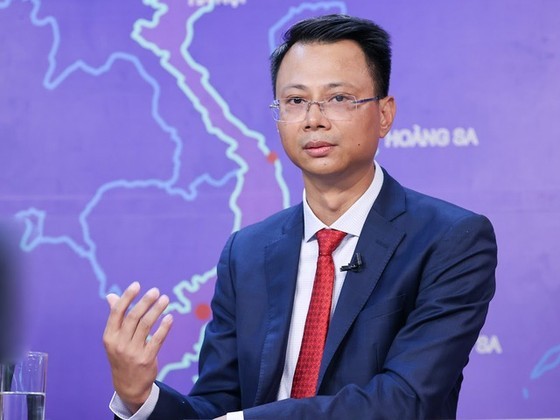 Deputy Director Le Anh Dung of Payments Department, SBV
Economic expert Dr. Pham Xuan Hoe congratulated SBV for its rapid response to this digital transformation of institutions: reflection on a payment intermediary policy, overdraft operations on customer accounts.
More importantly, in the board of directors of most banks there is at least one senior executive who is an IT expert. SBV is the same, when one of its deputy governors is an IT professional.
The Covid-19 pandemic has also fostered the use of digital banking through mobile apps at customers' homes for their day-to-day transactions. Currently, 95% of payment and money deposit transactions are carried out through the use of digital technologies. Some individual customers transact entirely through these technologies. This has helped Vietnam enter the list of top countries for digital transformation in banking, even though it is a developing country.
Recently, SBV submitted to the Prime Minister its proposal to enable the banking and postal sectors to pilot the transfer of money through the postal system and increase accessibility to residents in remote areas, which is a critical step in the process. digital transformation of the banking sector.
Banking Association Secretary General Nguyen Quoc Hung said more than 90% of payment services related to depositing money can be digitized; however, the problem lies in the process of lending money and related services to other ministries and public bodies, which can only be solved when the law on electronic transactions is amended and supplemented.
Another negative issue is SMS fraud, leading to loss of money in bank accounts. The banking sector is not the criminal but the subject that suffers the most negative impacts. Going forward, he will work with relevant government departments and state agencies to devise appropriate solutions to minimize this situation so that customers can use banking services safely and efficiently.
In addition, Deputy Director Le Anh Dung reminded that the community should be provided with enough information and knowledge, as well as appropriate training on financial security skills to avoid being deceived.